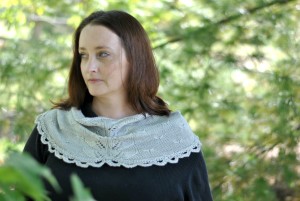 I taught myself to knit back in 2003 from Debbie Stoller's original Stitch n' Bitch book. I never thought I would start designing patterns myself until I had an idea for a shawl that wouldn't go away. That idea became the Holden Shawlette, and by the time I released that as a free pattern, I was completely and totally head over heels with designing. I have crafted a career that allows me to combine designing and staying at home with my children, which is the best of both worlds. I design mostly accessories because I love small projects. I work part-time at my local yarn store where I often teach a variety of knitting classes.
My self-published patterns are found on Ravelry, and in the pages of a variety of books and magazines. You can find some of my patterns in Pom Pom Quarterly, Knitscene, Interweave Knits, and in the books Wanderlust: 46 Modern Knits for Bohemian Style and 3 Skeins or Less: Fresh Knitted Accessories. 
I live in suburban Cincinnati, Ohio, with my husband and our two children. I grew up in a small town just outside of Huntington, West Virginia. Now, if you ever meet me in person, you'll understand why I don't sound like I'm from Ohio.