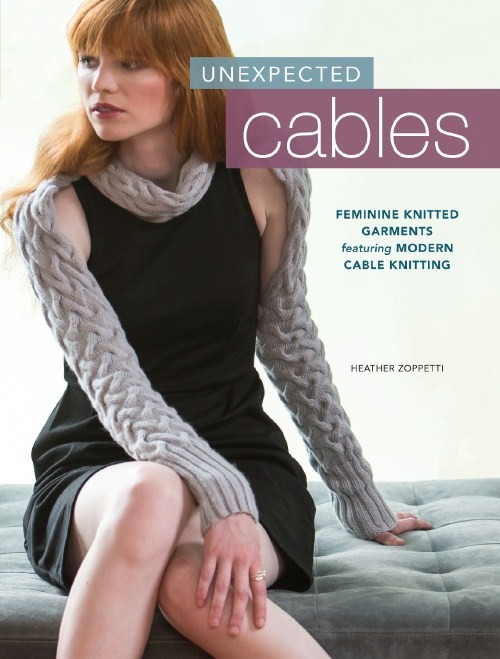 Unexpected Cables: Feminine Knitted Garments featuring Modern Cable Knitting by Heather Zoppetti
Unexpected Cables is the latest book from Heather Zoppetti. Her first book, Everyday Lace, was published in 2014 and focused on patterns that featured easy, wearable lace. Unexpected Cables focuses on designs with modern cables. From the Introduction in the book:
When many people think of cable knitting, the first images that come to mind are big, boxy fisherman sweaters. This is exactly NOT what you will find in Unexpected Cables. The goal of this book is to update the cable from heirloom to modern in unexpected ways. By using sleeker garment shapes, mixing cables with lace, and constructing garments and accessories in abstract ways, I hope to motivate the knitter to explore cable knitting in unexpected ways.
The book is divided into three chapters: Refined, Lace, and Abstract. Each chapter contains multiple designs that exemplify each concept. Personally, I am most drawn towards the patterns in the Refined chapter. My favorite pattern in the book is in this chapter.
The book has patterns for both garments and accessories. Sweaters, vest, socks, hats, cowls, and shawls are all here. All of the patterns use lightweight yarns–nothing heavier than a worsted weight. What the book doesn't have are instructions to actually teach you how to cable. There are a variety of illustrated techniques and tricks (like how to cable without a cable needle), but this book isn't for someone who is new to cabling. The book also only has charts; there are no written instructions for the charts.
Let's take a look at some of my favorite patterns.
First up is Leola. Leola is a ruffled shawl/scarf with twisted stitches.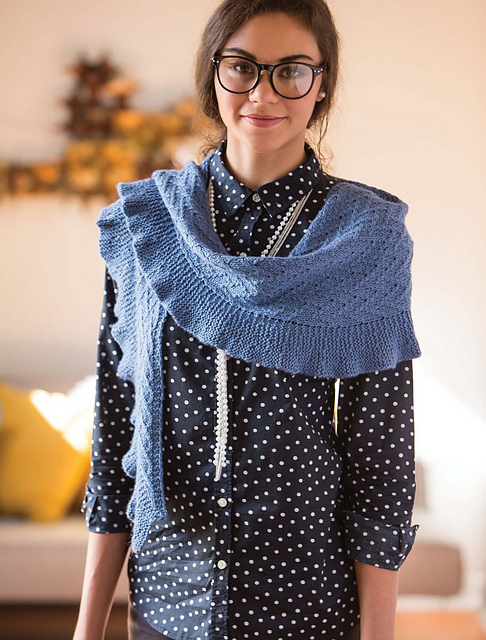 Leola is in the Refined chapter.
Next is  Safe Harbor. Safe Harbor is a cowl that combines lace & cables and is found in the Lace chapter.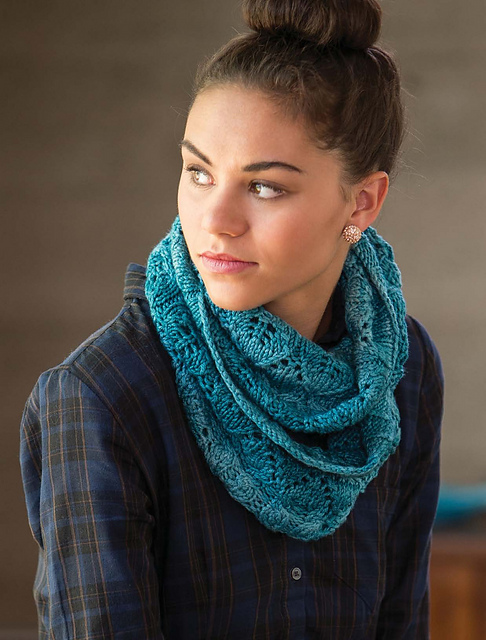 My favorite pattern in the book is Rheems. I love everything about this pullover.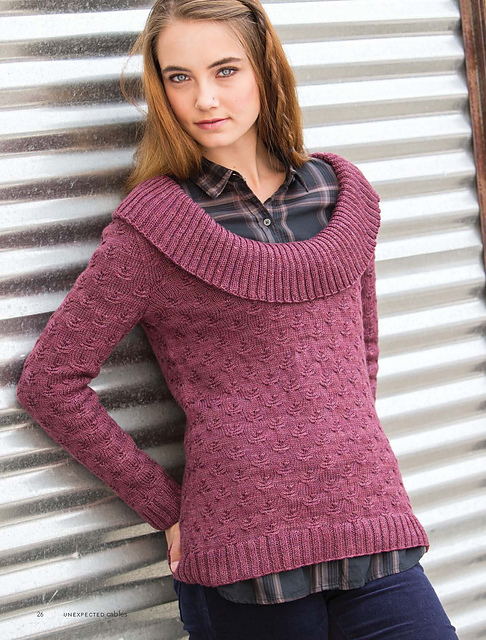 Rheems is also found in the Refined chapter.
Here's the fun part: I have a copy of Unexpected Cables for you! Just leave me a comment and tell me what pattern from the book is your favorite. I'll close comments on November 19, 2015 at 12:00 pm EST and draw a winner.
All photos courtesy F/W Media.